Patronage
What makes us different from other lenders is the fact that we return any excess earnings back to our membership each year.

As a FMFC borrower, you are a member-owner of a cooperative. Farm Credit's cooperative structure means that it operates for the mutual benefit of its borrowers and not for the benefit of outside investors. A key element of the cooperative structure is the ability to return earnings to members through patronage distributions.

The response to sharing in the profits of the Association and reducing members' cost of borrowing through patronage has been extremely positive and we believe it is one of the most compelling advantages to our cooperative structure.

Learn more about our Patronage Program >>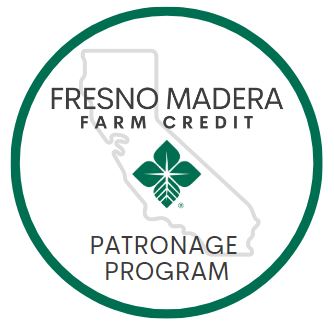 Organizational Structure
Fresno Madera Farm Credit, ACA ("FMFC", or "Association") is a privately held farmer-owned cooperative, owned 100% by our member-borrowers ("members"). As a result of our cooperative structure, we enjoy a number of unique advantages that benefit our members.


Cooperatives and Earnings
Like other companies, cooperatives use earnings to accumulate capital. Increasing capital improves the company's ability to withstand adversity, and increases competitiveness in the marketplace.

After cooperatives determine their earnings each year and access the need for capital, the board of directors can distribute a portion of earnings in the form of patronage distributions.


Patronage Distributions
A patronage distribution is a distributed from a cooperative to a member based on the amount of business done with the member. Patronage distributions can either be in the form of cash, or equity representing an allocation of surplus.